Prosci Change Management Certification Program
Participants will gain the knowledge, skills and tools to drive successful change initiatives. During this three-day experiential learning program, they will apply holistic change management methodology to a current project. They will leave with a change management plan designed to effectively manage change and enhance project results.
Dates: 19-21 February 2020 (three days) in English
1-3 April 2020 (three days) in Romanian
Venue: Qualians Learning Centre
Program fee: 2275Eur/ participant + VAT
Number of participants: 6-8

Get more out of the certification: bring the same project and work together with your colleagues on it.
Attend with another colleague and each one of you can enjoy a 10% discount
Attend with 2 colleagues and all 3 can enjoy a 15% discount
Information and registration: office@qualians.com | 0213197710
Cui i se adreseaza cursul:
The Prosci Change Management Certification is ideal for those responsible for driving change. Participants are predominantly in the following roles:
Change leaders
Project managers
IT professionals
Project team members
Change management practitioners
Continuous improvement specialists
Human Resource business partners
Organization development professionals
Obiectivele cursului:
By completing the Prosci Change Management Certification, participants will:
Understand the fundamentals of change and change management
Understand how effective change management improves organizational results
Articulate the value of change management to peers and leaders with a presentation on the business case for change management
Walk away with a change management plan
Learn to apply the Prosci 3-Phase Process change management methodology to a real project
Learn how to apply the Prosci ADKAR Model to facilitate individual change
Achieve certification in the Prosci change management methodology
Gain access to Prosci change management tools
Earn HRCI, PMI and CCMP credits
Agenda cuprinde:
Day 1 (8:30-17:30):
Why change management?
The ROI of effective change management
The Prosci ADKAR® Model
7 concepts of change
Preparing for change: assessing change readiness
Day 2 (8:30-19:30):
Preparing for change: building team structure and assessing sponsorship
Managing change: creating customized communication and sponsorship plans
Executive project plan presentations
Day 3 (8:30-16:30):
Managing change: creating coaching, training and resistance management plans
Reinforcing change
Exam & graduation
COURSE MATERIALS:
Program workbook, assessments and handouts
Best Practices in Change Management
Employee's Survival Guide to Change
Change Management: the People Side of Change
ADKAR: A Model for Change
One-year subscription to the Prosci Practitioner eToolkit
All Prosci certifications around the world have the same curricula and the same materials, are run by Prosci Certified

Instructors and issue the same Diploma, recognized worldwide.
Please find here the Prosci Change Management Certification Program described on Prosci's homepage, with even more information, along with a video description.
You can have a taste of the valuable information you will immerse in during the Certification Program by familiarizing with The ADKAR Model – an essential tool for leaders and change professionals. It is effective, easy to grasp and can be applied in a wide variety of organizational settings.
Created by Prosci founder Jeff Hiatt, ADKAR is an acronym that represents the five outcomes an individual must achieve for change to be successful: awareness, desire, knowledge, ability, reinforcement®. When applied to organizational change, this model allows leaders and change management teams to focus their activities on what will drive individual change and therefore achieve organizational results. ADKAR provides clear goals and outcomes for change management activities. It also provides a simple, easy-to-use framework for everyone in the organization to think about change. Employees, managers and senior leaders alike can all use ADKAR to describe and discuss change together.
ADKAR outlines the individual's successful journey through change. Each step of the model also naturally fits into the typical activities associated with change management.
For example:
Awareness of the business reasons for change. Awareness is the goal/outcome of early communications related to an organizational change
Desire to engage and participate in the change. Desire is the goal/outcome of sponsorship and resistance management
Knowledge about how to change. Knowledge is the goal/outcome of training and coaching
Ability to realize or implement the change at the required performance level. Ability is the goal/outcome of additional coaching, practice and time
Reinforcement to ensure change sticks. Reinforcement is the goal/outcome of adoption measurement, corrective action and recognition of successful change
The goals and outcomes defined by ADKAR are sequential and cumulative, they must be achieved in order for effective and sustainable change to take place.
To use the ADKAR model effectively, it is important to understand all of the factors at play during a change initiative and their effect on change success. Change happens on two dimensions: there is the business side of change and the people side of change. Successful change is a result of both dimensions of change maturing simultaneously (see below).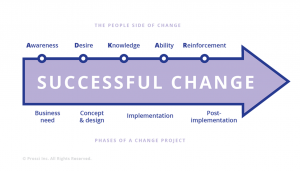 Download the ADKAR Guide for a reminder on the power of ADKAR for managing change.
If you want a more in-depth walk through of the ADKAR Model, watch the on-demand recording of Essentials of ADKAR webinar.